Use the on-screen keyboard
Updated 13 Dec 2022
Use the on-screen keyboard to enter answers on your tablet or touch-screen device. The player automatically displays the keyboard when you enter an answer box.

You can also enable this keyboard on your computer.
When you use the Show Work window, the on-screen keyboard is unavailable.

Enable/disable the keyboard
Select the settings icon.

Select On-screen Keyboard.
Choose:

Automatic to make the keyboard display automatically on your tablet.
On to enable the keyboard on a computer.
Off to disable the keyboard.
When you enable the on-screen keyboard, your computer keyboard might not work.

Keyboard options
In addition to the standard keys, the keyboard includes several options to help you answer: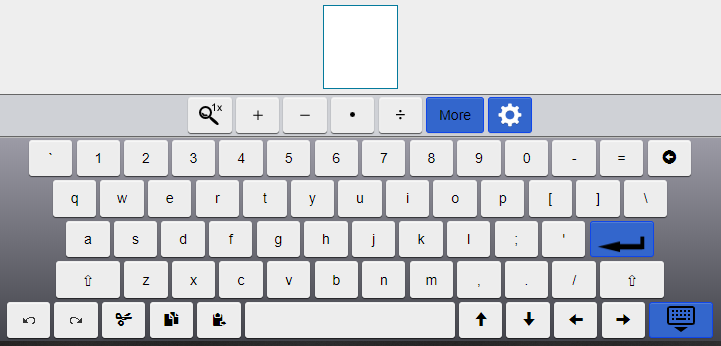 — The large answer box.
— Expand the large answer box.
— Enter symbols.
/Less — Open (or close) the complete symbols palette.
ABC — Return the alphabetical and numeric keyboard.
— Open keyboard settings.
— Delete an entry.
— Enter your answer in the answer box. For multipart questions, your cursor moves to the next part. When your answer is complete, the Enter key dismisses the keyboard.
— Change to uppercase letters.
— Hide the keyboard.
— Move the cursor in the direction of the arrow keys.
— Copy selected text.
— Paste copied text.
— Cut selected text.
— Undo and redo previous entries.