What's new in Mastering
March 22, 2019
Gradebook filter to show or hide inactive/suspended students: Any suspended students are no longer listed in the Gradebook's Score, Time, or Difficulty views unless you choose to show them. Students with this status can't submit any work. How to filter the Gradebook for inactive/suspended students
Additional place to see when credit has been granted for a part question: Instructors can now see a note below the answer box in Standard View when the class has been granted full credit on an item part. This is in addition to notes in the Assignment Overview page (bottom), Scores for Student name page (Notes column), and in the Student Data View of the item (available from the Manage this Item menu). More about giving your class credit for an item part
Dynamic Study Modules reporting: The reporting area has recently been updated to make it easier to check student progress and any content struggle on modules, whether they're assigned or not. As always, assigned module scores appear in the Mastering Gradebook. More about Dynamic Study Module reporting


December 28, 2018
Instructor features
Grading: Give full credit for a part question in an assigned item
Instructors can grant full credit to all students in the course for any part in an assigned item. You may want to grant part credit if there's a known issue with a part question or if students found the question confusing. More about granting credit for part
Creating/Editing assignments: Easier searches for the best learning content
Featured Items: These usually appear at the top of your search results. Featured Items provide students with hints, wrong answer feedback, and extra support, like math remediation. Note that items already assigned don't appear in the Featured Items list. More about Featured items
My Favorites: After you tag items as favorites, use the My Favorites filter to find items you've already previewed and decided to assign. More about My Favorites
Card View: Provides item information in a format that you can scan quickly. When applicable, Card View shows thumbnails of images or video. Previously, only List View was available for library items.
Course Home improvements (More about the Course Home)
Search by student name to open a student's score page. This search box is in the Performance area of the Course Home page. The Scores page for an individual student that opens has also been redesigned to more closely match what each student sees for this page.
Recent and due next assignment information: Up to 5 Recently Due and up to 5 Due Next assignment cards are now available in the Assignments area of the Course Home. (Previously only one card was provided for each of these.) The cards show the due date, the average student score, and how many students in the course completed the assignment. Show me an image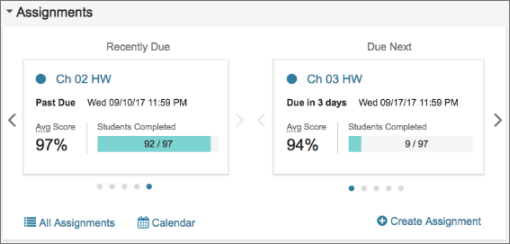 Labeling answer type available in the Simple Editor: Instructors can now create labeling items using the Simple Editor. How to edit or create a labeling question using the Simple Editor
Student features
Practice mode is more easily available when students rework an assignment. Based on the assignment default setting, students can redo items for practice after they've completed a Homework assignment and its due date has passed. When students select Practice from the assignment item list, practice mode now stays on as students navigate among the items in an assignment. Previously, students had to select the Practice button for each item.
Students can review the applicable book section while answering questions. When students select Review, they can refer to the applicable section in the eText or in their print textbook for help in answering an item's questions. The eText link feature for Review is not available for PDF eTexts.

Show sample Review option

Adaptive Follow-Ups: Parent assignment completion is no longer required for test out.
Students can test out of doing an Adaptive Follow-Up assignment when they meet or exceed the test out score on a Parent assignment.
Enhancements to unpenalized wrong answer feedback:
Unpenalized answer feedback says "No credit has been lost; try again." to encourage students to keep trying to answer the question. When applicable, a link may also be provided for related information or math remediation.

Show sample updated wrong answer response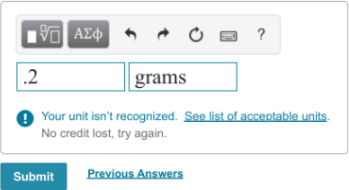 Graphing answer type: In student view, graphing questions are now in HTML5 format which can be screen reader and keyboard accessible. Previously, graphing questions relied on Flash technology. Note that fractional values, such as 4/5, are not supported as points in line graphs.
June 29, 2018
Course Home: Refreshed design with at-a-glance class results
Jump to key tasks to get your course ready from the Getting Started area. Average score and completion status is shown for the next and previous assignments. Check the average score for the course and use quick links into the Gradebook. Similar to the student experience, the new instructor course menu can be hidden for more room to work. You can also collapse sections to streamline your vertical view. For other details, see Get acquainted with the Course Home.
Item Library: A smoother content search experience
Define the kinds of content you're looking for within a more compact working space. Matching items appear in real time—you no longer need to apply filters. More on searching for items in the Item Library
Assignments: Summary data provided on Overview page
The Overview page for a standard Mastering assignment now provides the average score and completion status for the assignment, in addition to item-by-item results. Make selections to compare the performance of your students with all other Mastering students who have completed the same items. Some of this information was provided on the former Summary View page.
Any eText customizations now preserved when you copy a Mastering course.
When you add bookmarks, highlights and notes, or reorder the table of contents for an eText in a course, these customizations are copied into the eText of the course copy. The course copy must be based on the same edition textbook.
Student assignment experience: No longer in a new window or tab
This provides a more uniform student experience when working in the course. Some assignment content may still launch in a new window or tab.